Michigan ServSafe Courses – Food Safety of Michigan
If you are looking for top rated Michigan ServSafe courses, please contact Food Safety of Michigan at (586) 980-3301 today or click here to register for classes online. 
ServSafe, MFHA Share Expertise to Benefit the Industry
When tackling such complex issues as unconscious bias and cultural intelligence, it's good to have a partner to help you make things clear.
–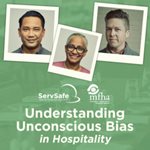 That's true whether on a personal level or an organizational level. That's why the National Restaurant Association, an expert in delivering training to the foodservice and hospitality industry through its ServSafe brand, partnered with the Multicultural Food service & Hospitality Alliance (MFHA), an expert in understanding bias and developing diverse work forces, to develop the Understanding Unconscious Bias training suite, part of ServSafe Workplace.
It's a partnership that not only works for those two organizations, but benefits restaurant and hospitality businesses as well.
In these days of every gaffe being captured on video and posted on social media, it is more important than ever that managers are skilled in cultural intelligence and provide training for their employees in how to recognize and combat unconscious bias.
Both ServSafe and MFHA are committed to creating the best possible training to support managers and employees.
For more than 23 years MFHA has helped individuals and food service and hospitality companies build their cultural Intelligence to deliver better business results. Through both research and delivering speaking presentations, live workshops and webinars, MFHA has focused on both strategic and tactical ways to build inclusion and enhance companies brand to attract and retain diverse employees. Known for providing keen insights to restaurant and hospitality executives and upper-level managers, they are frequent presenters at conferences focused on diversity, equity, inclusion, and the "how-to's" of building multicultural workplaces.  MFHA provides both regional and on-site training programs. For more information about MFHA, visit www.mfha.net.
ServSafe Workplace's Understanding Unconscious Bias training was developed in part from feedback and requests of MFHA workshop participants who wanted a scalable solution to bring these important messages to managers and employees at the unit level.
"Our vision for the industry is for everyone, regardless of the package God put them in, to achieve at the highest level of their ability and ambition," said Gerry Fernandez, founder and president of MFHA. "If you have the ability and ambition to be president of the company, there should be a place in the industry for that to happen regardless of whether you are a man, woman, black, white, Christian, Jew, straight, whatever."
Meanwhile, the National Restaurant Association has honed training methods and delivery to its highest levels with decades of producing ServSafe materials for the food service and hospitality industry. It has cultivated connections with experts in the industry and committed to research about how to train. It's what made ServSafe an attractive partner to the MFHA.
"The National Restaurant Association is the mothership for education for the restaurant industry and has all of the major companies and brands affiliated with them as well as the big supply partners who support the industry," said Fernandez. "Who better to partner with than the National Restaurant Association? They have a commitment, they have a content development group and they have Sherman Brown's leadership that is delivering great value in food safety training."
Fernandez says that there is a real need for training like this because there a much greater likelihood of conflict between employee and customer than ever before. He attributes that to an uncivil tone in our society, tension over immigration and people being willing to say things that they never would have said aloud or in public in the past. All this necessitates managers needing to support their employees in de-escalating a situation before it rises to violence. The manager's version of the Understanding Unconscious Bias training includes tips for deflecting and de-escalating potentially volatile interactions.
"We have always looked for people to partner with," said Fernandez. "Perspective and experience is good for business. That's our mantra for getting the best results. When you are inclusive in practicing that, then everybody gets a chance to contribute and everyone wins—the customer wins, the business owner wins, the employees win."
For experienced and trusted Michigan ServSafe courses, call Food Safety of Michigan at (586) 980-3301.
source: servsafe.com